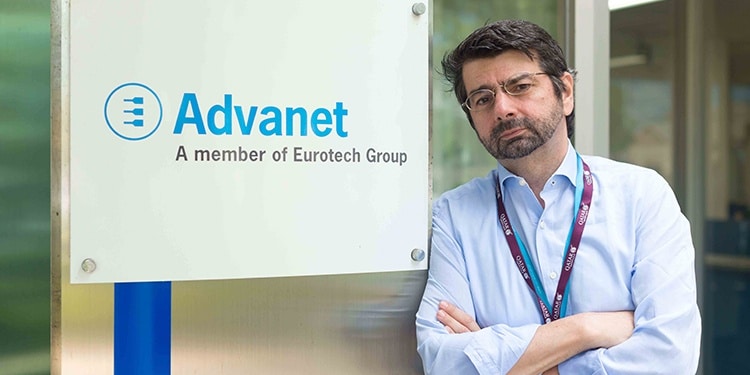 2021/01/05

2021年 社長より年頭のご挨拶
English Version
To our Customers, Partners and Suppliers
Year 2020 has just closed, with its legacy of unexpected toughness due to COVID-19 pandemic.  A new year is starting now, and, as after the night another morning always comes, we see today signs of hope and rebound for the future.
First and foremost, the technology sector is blasting off in the wake of the first global pandemic in over a century.  The world has been scrambling to stay functional while practicing self-isolation.  Technology has been the saving grace of the Covid-19 pandemic, allowing society to work, shop, and be entertained without walking out of the door.  Semiconductors in particular, and electronics in general are today at the heart of every advanced technology, from the smartphone to robots, self-driving cars and satellites.
That is where Advanet has been active since its inception, keeping its position as a leading supplier of systems and solutions to support our customers empowering the future of the society.
In this ever-changing environment, Advanet is now preparing to celebrate its 40th anniversary.  Established on July 3rd of 1981, this year will be the occasion to rejoice around the many achievements that we have had, and hopefully for us all, to be able to meet and celebrate in person by the summer.
From a technological perspective, we are seeing the consolidation of edge computing as a major trend, with impressive growth trends.  The value of the global edge computing market is expected to climb from 3.5 billion dollars in 2019 to 43.4 billion in 2027, with a compound annual growth rate of 37.4 percent.
Edge computing is – in a sense – what Advanet has been doing since its inception, when we started working on areas closer to the edge (motor control, machine control devices etc.), converting data collected from various sensors in the field into digital data for aggregation and monitoring functions.
As the market evolved, Advanet High Performance Computers backed its customers' growing needs for arithmetic processing of aggregated data, for high performance, high speed, and high accuracy of device control.  When Advanet joined the Eurotech group, IoT solutions were added to its portfolio to further improve advanced data collection and high performance at the edge.
Hence a long journey through the latest stint in Advanet's path, to helping our customers to drive towards Digital transformation (DX).  Digital transformation is – foremost – a tectonic change of mentality at societal level, enabled by the adoption of digital technology, to transform services or businesses, through replacing non-digital or manual processes with digital processes or replacing older digital technology with newer digital technology.
Thanks to the great support of its partners and suppliers, Advanet has always provided solutions for this transformation that the world is heading towards, and will continue to offer leading solutions for this new digital era whilst continuing to support our valuable customers through their legacy businesses.
Let's empower our societies together, enabling the future for us all.
Ludovico Ciferri
President & Representative Director
2021年1月5日
お客様、パートナー、サプライヤーの皆様へ
COVID-19のパンデミックによる厳しい年であった2020年が終わり、新しい年を迎えました。明けない夜がないように、新しい年では未来への希望と復活への兆しが見られます。
何よりもまず、テクノロジーはこの世界的なパンデミックの影響を受け、100年以上ぶりに爆発的に拡大しています。世界は自己隔離を行いながら機能を維持しようと奮闘しています。テクノロジーはCOVID-19パンデミックの救世主であり、社会が戸外に出ることなく仕事、買い物、そして娯楽を楽しむことが可能になってきました。今日エレクトロニクス全般、特に半導体は、スマートフォンからロボット、自動運転車、衛星に至るあらゆる先端技術のコア部分に採用されています。
アドバネットは社会の未来に力を与えるための活動をしており、システムとソリューションのリーディングサプライヤーとしての地位を維持しています。
この絶え間なく変化する環境の中で、1981年7月3日に設立されたアドバネットは今年で創業40周年を迎えます。本年は私たちがこれまでに成し遂げてきた多くの成果を記念すべき年となりますが、40周年の創立記念日には皆様と直接お会いしてお祝いすることができることを願っています。
技術的な観点からは、エッジコンピューティングの統合が主要なトレンドであり、目覚ましい成長傾向が見られます。世界のエッジコンピューティング市場規模は、2019年の35億ドルから2027年には434億ドルに上昇し、年平均成長率は37.4%になると予想されています。
エッジコンピューティングは、ある意味でアドバネットが創業時から、エッジに近い領域(モーター制御、機械制御デバイスなど)で多くの製品、サービスを提供してきた領域です。データ収集および監視機能のため、現場のさまざまなセンサーから収集したデータをデジタルデータに変換して処理を行います。
市場が発展するにつれ、アドバネットの高性能コンピュータ製品は、高速、高精度な制御の実現のために集約されたデータの高速演算処理に関する顧客の高まるニーズを後押しする役割を果たしています。 アドバネットがEurotechグループに加わって以来、IoTソリューションが弊社のポートフォリオに追加され、高度なデータ収集とエッジ領域での高速演算性能がさらに向上しています。
このように長い道のりを経てきた現在のアドバネットのステートメントは、お客様がデジタルトランスフォーメーション(DX)に向けて推進することを支援するものです。デジタルトランスフォーメーションとは、何よりもまず、社会レベルでの考え方の構造的な変化を意味します。非デジタルや手動プロセスをデジタルプロセスに置き換える、また古いデジタルテクノロジーを新しいデジタルテクノロジーに置き換えることで、デジタルテクノロジーの採用によってサービスやビジネスの変革を可能にします。
パートナー様とサプライヤー様の多大なサポートのおかげで、アドバネットは世界が目指す変革のためのソリューションを常に提供してきました。大切なお客様の従来からのビジネスへのサポートを継続させていただくことに加えて、新しいデジタル時代に向けた最先端のソリューションの提供を続けてまいります。共に社会に力を与え、私たちの未来を可能にしましょう。
代表取締役社長 ルドヴィコ・チフェッリ